Pianoteq PRO
Pianoteq PRO is the ultimate product for professional composers and recording studios, and has proved to be an indispensable tool in many recording projects - from movie soundtracks and tv commercials to the latest hit songs.
By being physically modelled, Pianoteq PRO brings you an extremely sophisticated tool for sound shaping and instrument creation, letting you create your own unique sounds that will enrich your projects. The PRO version works with internal sample rates up to 192 Khz. By using its powerful Note Edit feature, you are able to adjust physical parameters for specific ranges, and even note by note. You can also turn any Pianoteq instrument into a multi-instrument by using advanced keyboard splits for up to 105 notes (concerns instruments with extended octave range).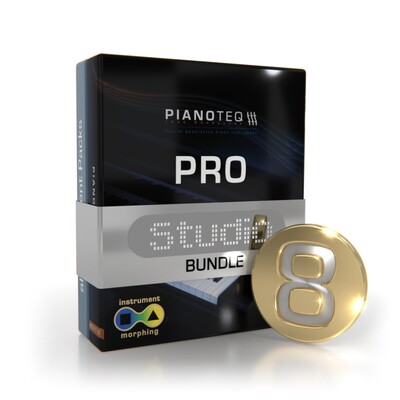 Pianoteq Studio Bundle
Pianoteq PRO + all Instrument Packs
You can also benefit from this special bundle: Pianoteq PRO including all current instrument packs:
In addition to the above, forthcoming instrument packs and upgrades, to be released within one year from the date of registration, will be available for free.

Rik Simpson
(producer of Coldplay, Jay Z, Portishead, PJ Harvey)
« The pianos sound absolutely real to my ear yet because they're modelled they can also be adapted to defy physics... I made myself an upright piano with a 30 metre soundboard the other day!! »

Klaus Badelt
(film composer)
« Pianoteq's customizable capability provides me with every type of sound required for every type of mood and situation. Pianoteq has become my 'go to' instrument for sketching and final production. »

Jean-Philippe Rykiel
(sound designer and programmer)
« In the following audio demo, I used the unique possibilities of Pianoteq Pro. I made a sound derived from the D4 Jazz B/A preset where I tried to simulate what happens when you put your hands on the strings. So the middle of the keyboard has this handMute effect, while the low and high octaves remain unchanged. I alternate this sound with the original D4 Jazz B/A preset, guaranteed without overdubs! »